May 2022
Welcome to my first blog as Course Manager here at Castle Royle. Firstly can I thank the membership for the warm welcome I have received despite bringing the Northern weather with me for the first month or so! I find it hard to believe two months have passed already - it's been a bit of a blur really! I have spent most of that time trying to learn about the course, staff, the existing or historical methods and practices, the irrigation, drainage, machinery, stock, personnel, staff and financial limitations, to name a few. I'm starting to get my head round it all now and implement some plans I believe will get the course to a standard where we can all be proud to be part of the Castle Royle community.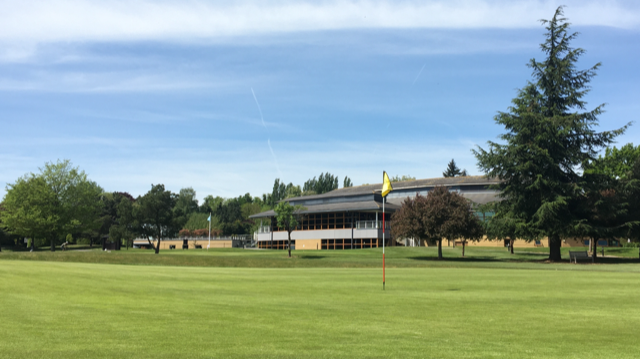 Greens
Before I started, the club had tested the level of organic matter in the greens by means of the loss of ignition test. We followed this up with a soil nutrient test that measures things like the amount of key nutrients within the root-zone which are required for plant health, the soil characteristics and pH and nutrient retention capability. It also highlights areas of concern that may need remedial work to correct, such as the slightly high levels of organic matter in the upper profile. This test gives us a starting point to work from and allows us to put together a maintenance plan for the year with the aim of maintaining a healthy plant, allowing us to produce greens of the highest quality throughout the year. Nutrient and biostimulant inputs, wetting agent/ surfactant programmes, disease management, aeration practices, over eeding and top dressings are all planned after reviewing this data. Much of the work included in this plan is achieved through regular cultural practices and I will go into more details of the plans and each of these factors in future blogs.
We have started to work on refining the playing surfaces across the course as day time temperatures rise and growth should gradually increase - although this is hampered by night time temperatures remaining low causing regular light frosts. Light scarifying, brushing, light sand dressing and rolling is now being done more regularly on the greens and will increase in intensity as we head towards summer. Maintenance of the collars, tees, fairways and approaches will also be increased over the coming weeks. Remedial work has begun on the greens as we aim to improve sward density and grass coverage. Hand seeding bent grass into any sparse areas, disease scars and blemishes will continue throughout the season.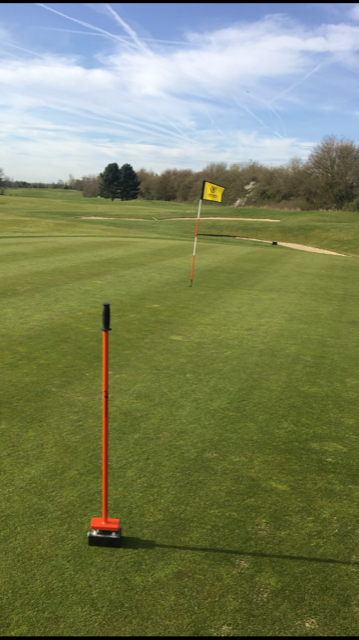 The Accuseed hand seeder we use for drilling Bent seed into the putting surfaces - labour intensive, but very effective!
Tees
For various reasons, the tees have been somewhat neglected over recent years so there is much work to be done here. The aim is to hand cut tees and greens (dependant on staff levels and machinery capabilities) and reshape and realign the tees. The plan for the tees is a scaled down version of what we aim to implement on the greens and work is well underway to improve them.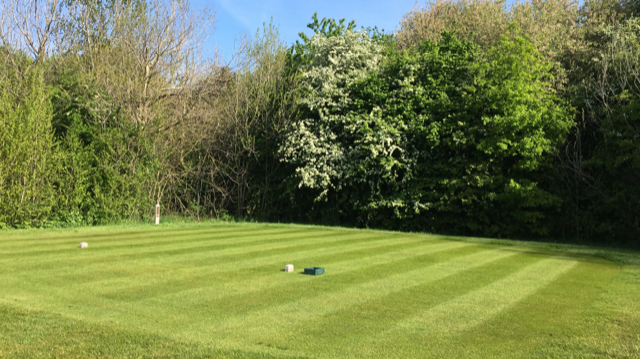 Hand cut tees with reshaped perimeters
Team
The team consists of a core of staff who have been with the club a while combined with a few new recruits, and we are currently recruiting for two team member replacements. We are also working on a training programme to get the team qualified and to a point where everyone is capable of most tasks, therefore improving productivity, pride and team morale. We are putting plans in place to improve the welfare, facilities and working conditions for the greenkeeping team.
Member Notices
I would like to thank all those members who carried their clubs during the winter. Although it's not always a popular decision to ban trollies, the difference this makes to the course condition through winter is incredible, and the recovery in spring is much improved as a result. The number of members who continued to carry once the ban was lifted was incredible so a big thank you to all. Another thank you to all those that helped divot the fairways over the course of two afternoons; this is a mammoth task for the team but with more than 25 volunteers we made quick work of it and enjoyed a well earned pint together afterwords.
Thursday mornings the range will be closed for maintenance. This will be highlighted in the course status on the club website.