Friday 19th August 2022
We hope you have all been enjoying your summer holidays and staying cool in the heatwave! Our Summer Splash Sessions have been very popular, with lots of members taking a dip in our pool and topping up their tan on the outside terrace.
With developments to our PT offering and Les Mills launches around the corner, there's lots to look forward to in September.
Team Updates
We are delighted to welcome Millie Gomme as our new Crèche Manager! Our previous Manager, Kate, played an important role in setting the highest standards for our crèche team, and we wish her all the success on her new adventure. Since joining the team, Millie has proved to be a wonderful addition and will thrive in her new position as manager.
Gym Update
I hope you've had a great summer holiday! August may have seen a lovely streak of hot weather, but our gym seems to have been the 'cool' place to be!
Our team of trainers has continued to deliver great sessions in the gym, including our beloved SkillX classes! If you haven't tried one, it's a great way to burn calories and meet new people in the gym. It really does make the workouts more enjoyable.
We had our First SkillX Royle Day recently, with a turnout of 20 participants taking part in a 12-minute workout challenge followed by a social afterwards! It was a great atmosphere in the club and we are already looking forward to our winter one.
Keep an eye out for our September events, when we'll be running our Personal Training Focus week between 12th and 15th September.
We will also be celebrating National Fitness Day on 21st September! The theme this year is 'Fitness Unites Us,' so we'll be organising a collective Plank Challenge where we'll be adding up everyone's plank time for the day, going head-to-head with other clubs across the country! Come in and enjoy a fun day with us.
A few housekeeping points:
Please put your weights away after using them
Please wipe your kit after use
Make sure you wear appropriate clothing and footwear in the gym - no flip flops, crocs or sliders please
Come and ask questions if you're not sure about any equipment - we're here to help you!
And last but not least, we're saying goodbye to our beloved James, who will be moving on to be the new Wellness Manager at our sister club, Witney Lakes Resort! I'm sure you'll all join me in thanking James for his amazing services over the last 18 months and wishing him the best of luck in his new role. Have a great month everyone!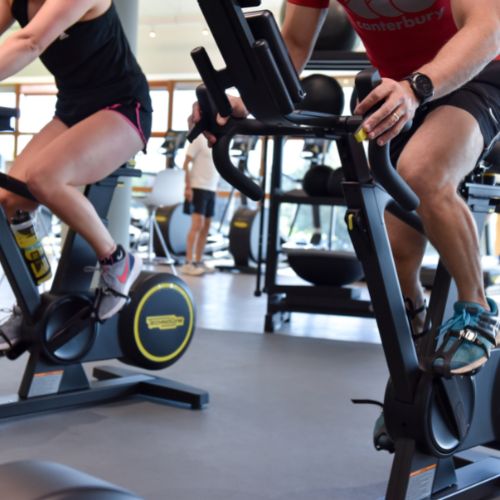 Improvements to Personal Training
Personal Training has had a revamp!
Trainer Levels: We're introducing clearer bandings of our Personal Trainers, recognising their level of experience and qualifications. You can now choose between three bands; Trainer, Senior Trainer and Master Trainer. We are also re-invigorating our in-house training programme for our Personal Trainers to offer them better support in their development and to provide more opportunities to gain greater expertise in key health and fitness topics. This will mean that we can provide an even better service to our members.
Personal Training blocks: There will be a clearer structure of Personal Training pricing, with single, 4-block and 8-block sessions available, with 4-block purchases holding a 5% discount and 8-blocks a 10% discount off the single session price.
Direct Debit option: We are introducing an easier and more cost-effective way to set up your Personal Training, by enabling you to add your sessions to your membership direct debit, either with 4 or 8 sessions per month. Four sessions will offer a 15% saving and eight sessions a 20% saving off the single session price.
Client Agreement: We will be asking all Personal training clients to sign a new agreement, which better highlights the expiry dates of block and direct debit purchases, along with our cancellation and refund policy.
Events Update
We hope you enjoyed the Summer Bash on our beautiful terrace recently! There was a BBQ offering all the classics, a bar full of your favourite drinks and even some cocktails added in. What a great way to celebrate the summer as it draws to a close.
We have loads more events planned for the rest of the year including a Quiz Night, an Open Mic Night and a Race Night. Next up is our Quiz Night on Friday 23rd September, so keep an eye out for more details.
Aura Spa
Aura Spa is hosting an exciting event this autumn for anyone interested in skin health and maintaining a youthful and radiant complexion. The event will be held on the morning of 30th September and along with a complimentary 25-minute Elemis Facial, you will also have the option of receiving a skin analysis with our Elemis representative using the SkinLab lamp to see what condition your skin is in.
The ticket price is £15 which is redeemable against retail purchases on the day. Tickets must be purchased in advance and are available from the main reception. There are a limited number of tickets available, so book early to avoid disappointment. There will be gift with purchase options on the day along with treatment offers, so come along, meet the team and enjoy a bit of time for yourself!
Raise your salad game this summer
Long gone are the days when salads were simply the supporting act – a wilted plate of greens designed to bulk out the main event or balance out a rich meal.
The good news is that nowadays, with access to a wide range of ingredients offering a variety of colour, flavour and texture, they can be stand out dishes in their own right.
So go on, get creative and throw together something you can be proud of this summer. Here's five salad staples to get you started.
Classic Greek salad
Nothing beats the simplicity of the humble Greek salad. With crunchy veg, smooth and tangy feta, a sprinkling of oregano and a really good extra virgin olive oil, you can create something magical in a matter of minutes.
Ingredients:
4 large vine tomatoes, cut into irregular wedges
1 cucumber, peeled, deseeded, then roughly chopped
½ a red onion thinly sliced
16 Kalamata olives
1 tsp dried oregano
85g feta cheese, cut into chunks
4 tbsp Greek extra virgin olive oil
Method:
Place 4 large vine tomatoes, cut into wedges, 1 peeled, deseeded and chopped cucumber, ½ a thinly sliced red onion, 16 Kalamata olives, 1 tsp dried oregano, 85g feta cheese chunks and 4 tbsp Greek extra virgin olive oil in a large bowl.
Lightly season, then serve with crusty bread to mop up all the juices.
Grilled peach and pecan salad
This vibrant vegan salad is a feast for both the eyes and the stomach. The toasted pecans add a satisfying crunch alongside the smooth sweetness of the peach.
Ingredients:
2 shallots, halved and thinly sliced
1 red chilli, deseeded and thinly sliced
2 lemons, juiced
180g cous cous
1 tbsp agave syrup
4 tbsp rapeseed oil
125g pecans
a bunch flat-leaf parsley, roughly chopped
70g rocket
3 peaches, slightly under-ripe, halved and stoned
4 sprigs thyme, leaves picked
Method:
In a small bowl, mix the shallots and chilli with 1/2 the lemon juice. Cover and chill for 20 minutes.
Cover the couscous with just boiled water and leave to stand for 15 minutes.
In the meantime, in a small bowl combine the agave syrup, remaining lemon juice and the rapeseed oil with a good grind of black pepper and a pinch of flaky sea salt. Mix well to combine.
Toast the pecans in a small frying pan over a medium heat for a few minutes until slightly browned and fragrant, tossing regularly to keep them from burning. Remove the nuts from the pan and cool.
In a large salad bowl, combine couscous with parsley, rocket and pecans. Drain the pickled shallots and chillies and toss through.
Use a pastry brush to coat the cut sides of the peaches with a little of the agave dressing. Sprinkle with the thyme leaves and cook on a BBQ over white-hot coals or in a griddle pan heated until hot. Flip after a minute or so – the peaches should be just-soft with some grill lines. Slice each grilled peach half in two and add to the salad bowl. Dress the salad, toss gently and serve.
Hot smoked salmon salad
This healthy summer salad packs a great protein punch and will keep you fuller for longer. A tangy dressing is the perfect accompaniment to soft salmon pieces and crunchy veg.
Ingredients:
2 Little Gem lettuces, cut into chunky pieces
50g sugar snap peas, halved
1 red onion, thinly sliced
2 tbsp capers
150g hot-smoked salmon
crusty bread, to serve (optional)
Dressing:
100ml buttermilk or kefir
1 tbsp white wine vinegar
caster sugar, a pinch
Handful of chives, finely chopped
Method
To make the dressing, whisk together the buttermilk, vinegar, sugar and some seasoning and stir in the chives.
Add the lettuce to a large bowl with the sugar snaps, red onion and capers and toss gently. Pour in 1/2 the dressing and toss again. Flake over the salmon and gently toss again.
Tip into a serving bowl, drizzle over the rest of the dressing and serve with crusty bread, if you like
Courgette, sundried tomato and goats cheese salad
Impress your barbeque guests with this tangy and nutritious courgette salad, perfectly balanced with a zingy pumpkin seed dressing.
Ingredients:
4 medium green courgettes
150g goat's cheese
120g Sundried tomatoes, sliced
200g peas, (If frozen defrosted)
sea salt and cracked black pepper
Pumpkin seed dressing:
6 tbsp. sherry vinegar
4 tsp. honey
250ml olive oil
2 tbsp. freshly grated ginger
5 tbsp. pumpkin seeds, lightly toasted
3 tbsp. poppy seeds
10 Mint leaves, finely chopped
Handful of flat leaf parsley finely chopped
1/2 tsp. salt
Method:
Add all the dressing ingredients into a sealable container and shake up well. This will make more than needed, but you can use to dress any salads, and it will keep in the fridge for up to 1 week.
Wash the courgettes under cold running water and pat dry. Using a knife, top and tail the courgettes, then using a potato peeler, run long slices off the courgette turning each time you reach the seedy centre.
In a large bowl combine the courgette ribbons, peas and sundried tomatoes and then crumble in your goats' cheese with some of your dressing. Season with salt and cracked black pepper. Toss everything together, serve in a large bowl or on individual plates depending on your requirements.
Thai ginger salad
A deliciously nutty peanut butter and lime dressing makes this adventurous salad sing.
Ingredients:
300g (use red, white or a mixture) cabbage, shredded
150g carrot, grated
1 cucumber, halved lengthways, seeds removed and thinly sliced
60g edamame, cooked and shelled
1 onion, thinly sliced
a handful, chopped, plus extra to serve coriander
to serve chopped peanuts
Dressing:
60g crunchy peanut butter
2 tbsp rice vinegar
3 tbsp toasted sesame oil
1 lime, juiced to make 2 tbsp
1 tbsp soy sauce
2cm piece ginger, thinly sliced
Method:
To make the dressing, whizz together all the ingredients in a food processor or blender until smooth.
Combine all the salad ingredients, except the peanuts, in a salad bowl, pour over the dressing and mix well. Garnish with the peanuts and more coriander to serve.
Prawn, cucumber and avocado salad
With just a few ingredients, this simple salad doesn't skimp on flavour. It can feature as an impressive side dish or the star of the show as a light main meal.
Ingredients:
Handful of king prawns
Half a cucumber
Bag of mixed salad leaves
1 red onion
1 avocado
1 lime
2 cloves garlic, minced
Handful of coriander
2 tbsp olive oil
1/2 tsp chilli flakes (adjust as preferred)
Method:
Mix the prawns with the oil, coriander, garlic, lime juice and chilli flakes. Add to a hot pan and fry for 2 minutes.
Dress the salad leaves in oil and vinegar. Transfer to a serving bowl.
Top the lettuce with the red onion, cucumber, avocado and cooked prawns.
Ways to stay healthy on holiday
Holidays are for relaxing and having fun, but the change in routine can also derail our best health and fitness efforts. With a few pointers though, you can build some healthy habits into your trip away and come back ready to pick up where you left off.
Build exercise into your day
Consider your location and opportunities for building exercise into your trip. Are you staying near the beach? Perhaps a morning swim is achievable, or some adventurous water sports with the family. Out in the countryside? Check out the best hiking routes or cycling trails. Think of ways to increase your energy expenditure throughout the day, however small.
Book a walking tour
Many towns and cities offer guided walking tours which can be a great way to get your bearings as you explore your destination's rich heritage on foot, as well as burning off the previous night's cocktails! You might even meet some interesting people along the way.
Eat mindfully
Savour your holiday meals and take your time. Focus on the flavours and textures of the food you're eating, and the signals sent by your body that you may be full. Taking a 10-minute break after your first portion can be a good way of determining whether you really do need that extra helping.
Give yourself a treat night
You're on holiday, so naturally some indulgence is expected. If you can make healthy meal choices for most of your trip, choose a night where you relax and enjoy whatever you fancy as a reward for your willpower.
Beware the breakfast buffet
With so much choice on offer, an all-you-can-eat breakfast buffet can be a tempting sight on holiday. Load up on yoghurt, fruit and muesli, or eggs to feel fuller for longer. Try to limit the time allocated for breakfast so you don't have time to consider a second or third trip to the buffet.
Watch your alcohol intake
As well as the extra risks associated with drinking alcohol in hot climates, it's also a sure way to add empty calories to your trip. Try to earmark certain nights where you will not drink alcohol or choose lower calorie options such as a vodka or soda-based cocktail instead of that Pina Colada.
Plan when you will exercise
Spontaneity can be one of the best things about getting away from your routine. However, it might pay off to do a little forward planning for the sake of your health. If you build dedicated exercise time into your day in advance, you're far more likely to stick to it. While that 30-minute workout may not be achievable on holiday, maybe you can fit in 15 minutes of morning Yoga and then a 15-minute walk after lunch.
Stay hydrated
Be mindful of drinking enough water during your trip. Feeling hungry can often be a sign of dehydration, so make sure to have a bottle of water on hand – especially in extremely hot weather. Alternating alcoholic drinks with water can be a great way of keeping your body hydrated, consuming less calories and lessening the effects of a hangover.
Pack healthy snacks
Sightseeing can mean long periods of time without eating, which then leads to overindulgence later. Plan ahead by taking a few energy bars with you to make sure you never go too long without a snack.
Make the most of online workouts
If you love the energy of studio classes, there's no need to give them up during your trip. Make sure to log onto the member portal while you're away and explore one of the many live and recorded online workouts at the tap of a finger!
Visit the member portal